As a healthcare provider, it is vital to comprehensively understand the coding guidelines when treating a patient with morbid obesity. Proper coding and reimbursement are essential for providing quality care to your patients and ensuring financial stability for your practice.
The ICD-10 code for morbid obesity is E66.01 and being knowledgeable about this code and its application to your patients can greatly improve the accuracy of diagnosis and ensure appropriate reimbursement from insurance providers and other payers.
In this article, we will delve into the crucial aspects of the E66.01 code and outline how healthcare providers can be properly reimbursed for their services through its effective utilization. Stay ahead of the curve and take the necessary steps to ensure the best outcomes for your patients and your practice.
What is Morbid obesity?
Morbid obesity is a serious health issue that affects millions of people in the United States. It is defined as having a body mass index (BMI) of 40 or higher and increases the risk for a range of serious health problems, including type 2 diabetes and cardiovascular disease.
Some of the common ICD-10 codes used for Obesity Management
It goes with saying that timely and accurate reimbursement is only when providers use accurate ICD-10 diagnosis codes. Some of the most common ICD-10 codes that are used for obesity management are: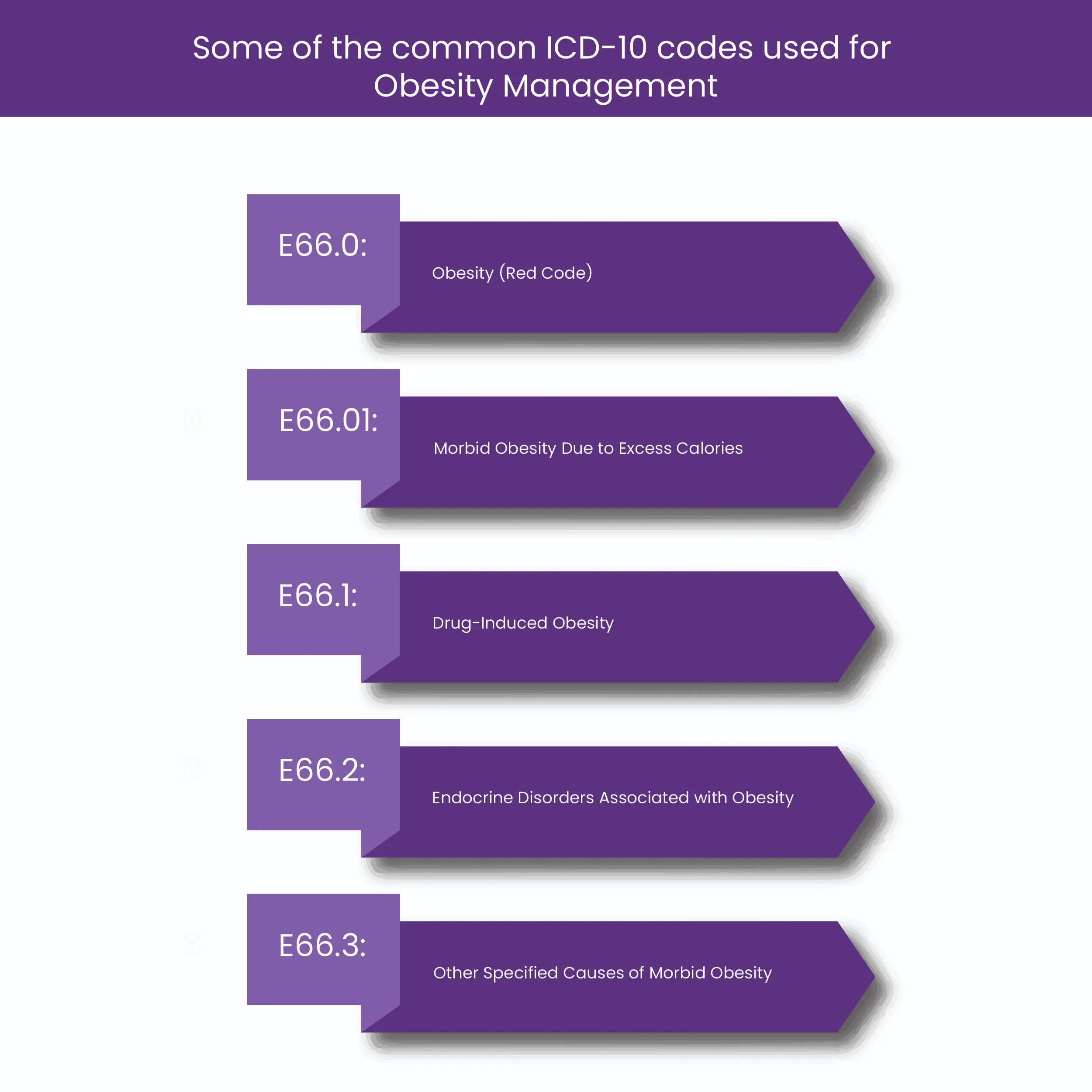 E66.0: Obesity (Red Code)
E66.01: Morbid Obesity Due to Excess Calories
E66.1: Drug-Induced Obesity
E66.2: Endocrine Disorders Associated with Obesity
E66.3: Other Specified Causes of Morbid Obesity
BMI Diagnosis Code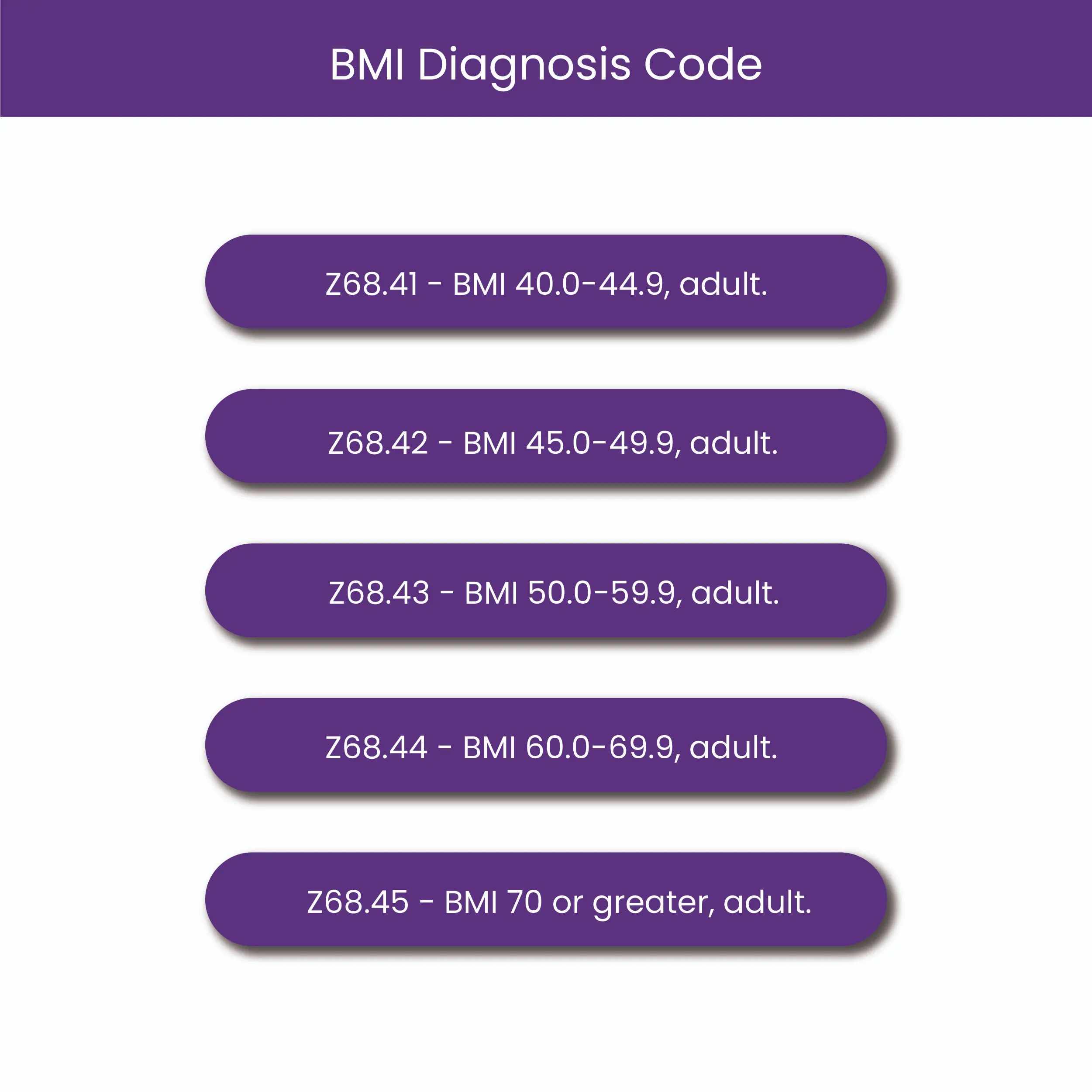 Z68.41 - BMI 40.0-44.9, adult.
Z68.42 - BMI 45.0-49.9, adult.
Z68.43 - BMI 50.0-59.9, adult.
Z68.44 - BMI 60.0-69.9, adult.
Z68.45 - BMI 70 or greater, adult.
Reimbursement for Morbid Obesity
Providers can receive proper reimbursement for morbid obesity when the ICD-10 code E66.01 is used correctly. This code should be accompanied by the patient's height and BMI, as well as any secondary diagnoses associated with it.
Additionally, providers must document any treatment or services provided to treat morbid obesity in order to receive reimbursement from insurance companies.
What Coding Guidelines Should Healthcare Providers Be Aware Of When Treating Patients With Morbid Obesity?
When documenting patient information, it is important to confirm the specific insurance requirements to ensure an accurate recording of their status and the services provided. This can be accomplished by verifying with the relevant insurance providers or with the state's Medicare or Medicaid agency prior to initiating any additional treatment.
In addition to recording the primary diagnosis of obesity, it is important to document any associated comorbidities that were addressed during the visit, such as hypertension, diabetes, or dyslipidemia. This provides a comprehensive overview of the patient's health status.
It is also crucial to measure and document the patient's body mass index (BMI) at every visit. Although the primary diagnosis code for obesity may remain unchanged, the BMI Z codes may vary. This information is important for tracking changes in the patient's weight status and for making informed treatment decisions.
Please note that BMI Z codes should not be used for patients who are pregnant and have been diagnosed with obesity. This is because pregnancy can significantly impact a patient's weight, and using the BMI Z codes in this scenario may result in inaccurate documentation.
Final Words
In conclusion, healthcare providers need to be aware of the ICD-10 code for morbid obesity (E66.01) and any associated secondary codes in order to ensure accurate diagnosis and reimbursement.
Furthermore, when treating patients with morbid obesity, healthcare providers should document any comorbidities that were addressed during the visit, as well as the patient's BMI, in order to provide a comprehensive understanding of the patient's health status.
By following these guidelines, healthcare providers can ensure timely and accurate reimbursement for their treatments of morbid obesity.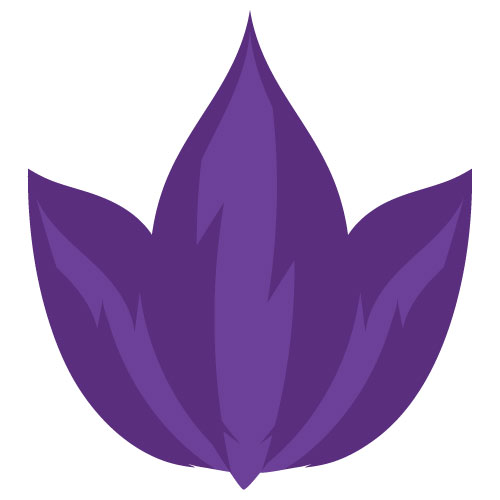 Matthew Hoggard
As a blog writer with years of experience in the healthcare industry, I have got what it takes to write well researched content that adds value for the audience. I am a curious individual by nature, driven by passion and I translate that into my writings. I aspire to be among the leading content writers in the world.