Patient Statement Solutions are essential in efficient patient billing and medical record keeping. As the demands for the privacy of patient data and HIPAA regulations increase, it becomes more difficult to keep up with patient payment processing while remaining compliant. That's why many healthcare organizations are turning to outsource patient billing services.
By utilizing an experienced team of billing professionals, healthcare providers can ensure that patient billing statements are compliant with HIPAA requirements and that the privacy of patients' data is protected.
In this blog, we'll discuss the benefits of these services for HIPAA-compliant patient billing and mail, as well as the privacy of data.
Overview of Healthcare Payment Processing Services and Its Importance
Patient billing solutions are a valuable asset to any healthcare organization. By outsourcing patient billing, organizations can streamline patient payments while ensuring HIPAA compliance.
By introducing these services, paper statements can be quickly printed and securely mailed in accordance with patient privacy regulations. The data is securely stored and managed and patient billing is simplified, resulting in a more efficient patient billing process.
Benefits of Patient Statement Solutions for HIPAA-Compliant Patient Billing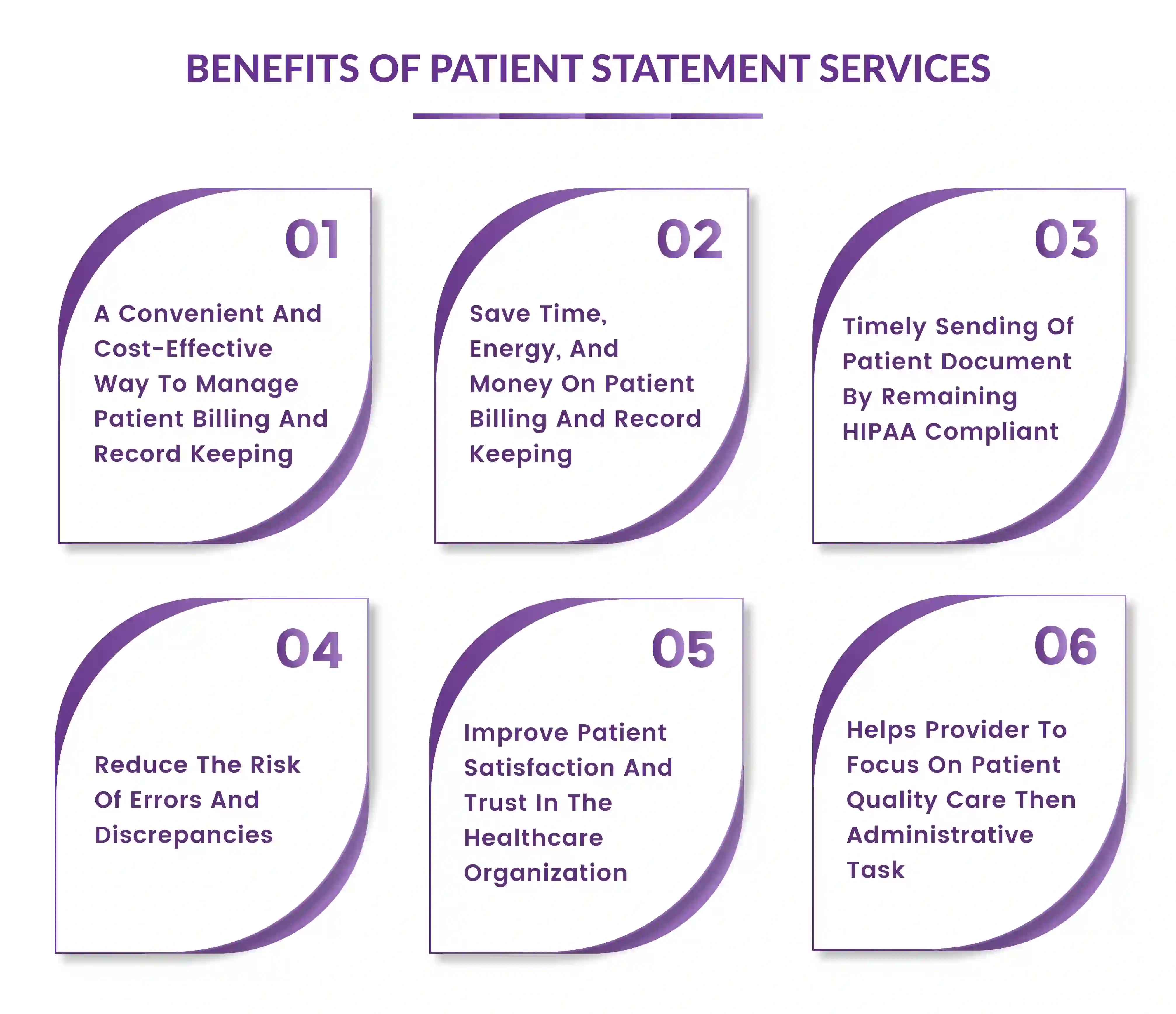 It offers a convenient and cost-effective way to manage patient billing and record keeping while ensuring HIPAA compliance.
By outsourcing medical billing statements, healthcare organizations can save time, energy, and money on patient billing and record keeping.
These services provide a streamlined and efficient way to send billing statements and other patient-related documents such as payment confirmation letters.
Healthcare organizations can be sure that patient documents are sent in a timely manner and remain compliant with HIPAA regulations.
Such services help to reduce the risk of errors and discrepancies in patient billing and record keeping.
Patients receive timely and accurate billing statements, which can improve patient satisfaction and trust in the healthcare organization.
It allows healthcare organizations to focus on providing high-quality care to patients rather than administrative tasks
These services offer several advantages over traditional patient billing and record-keeping methods, especially when it comes to HIPAA compliance and data privacy. By using these automatic services, healthcare organizations can streamline their billing processes, reduce costs, and ensure timely and accurate billing statements for patients.
How Patient Data Privacy Can Be Ensured With Electronically
One of the most important benefits of these services is the assurance that patient data privacy and HIPAA regulations are being followed. By availing of such services, patient data is managed and stored securely in accordance with HIPAA guidelines.
All patient information is encrypted and only authorized personnel have access to patient data. Additionally, Patient financial services provide customizable billing statements that can be tailored to the specific needs of a healthcare organization.
Steps to Implement Patient Billing Services in Medical Record Keeping
In order to implement these services, the following steps should be taken: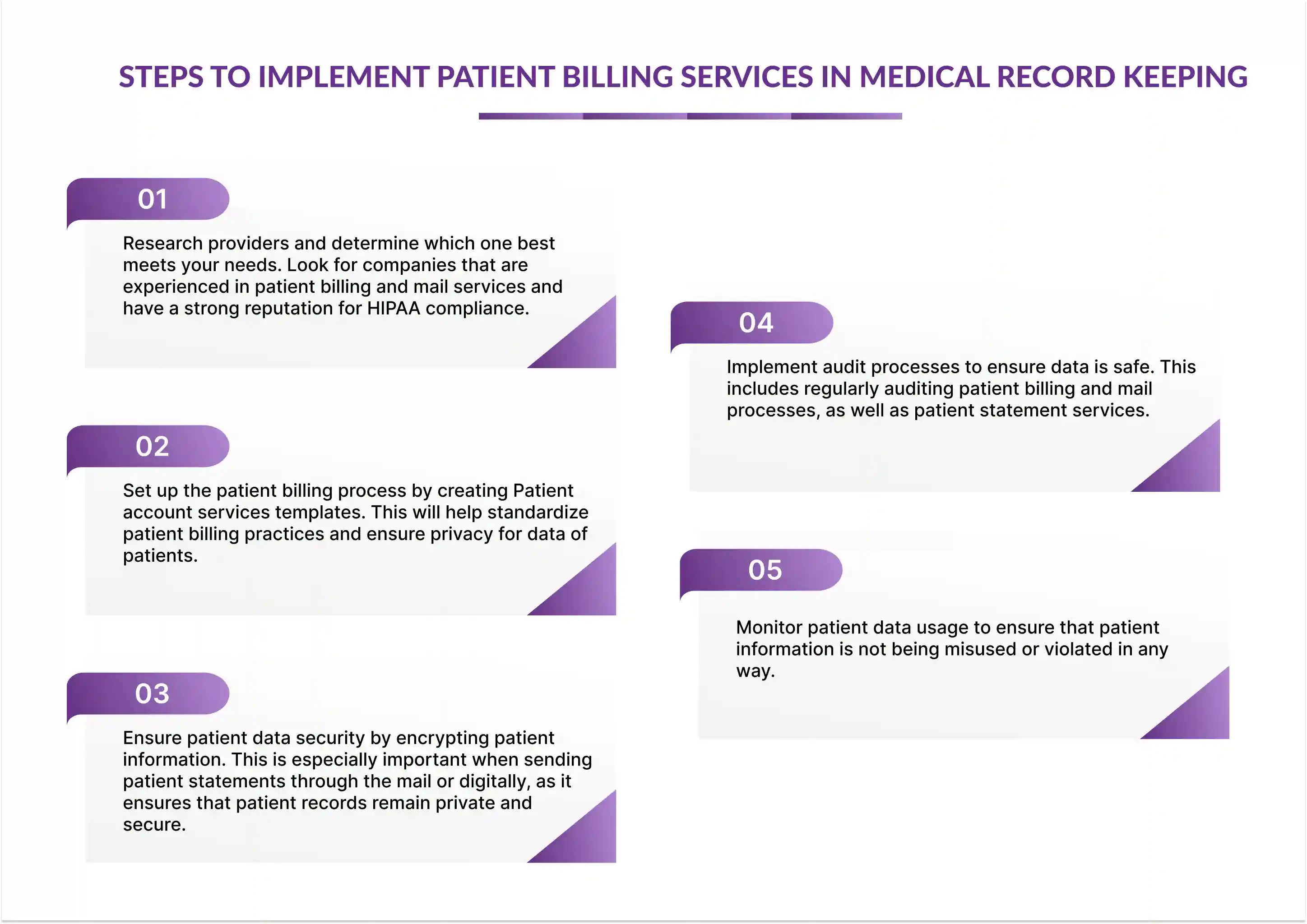 Step 1: Research providers and determine which one best meets your needs. Look for companies that are experienced in patient billing and mail services and have a strong reputation for HIPAA compliance.
Step 2: Set up the patient billing process by creating Patient account services templates. This will help standardize patient billing practices and ensure privacy for the data of patients.
Step 3: Ensure patient data security by encrypting patient information. This is especially important when sending patient statements through the mail or digitally, as it ensures that patient records remain private and secure.
Step 4: Implement audit processes to ensure data is safe. This includes regularly auditing patient billing and mail processes, as well as medical billing and invoicing.
Step 5: Monitor patient data usage to ensure that patient information is not being misused or violated in any way.
By following these steps, healthcare providers can take advantage of Medical billing solutions for HIPAA-compliant patient billing and mail, while protecting the privacy of patients' data.
Tips to Choose The Right Services for Your Needs
Choosing the right service provider can be a daunting task due to the increasing need for data privacy for patients and HIPAA compliance. With so many providers offering healthcare billing services, it can be difficult to determine which one is best suited for your organization's needs. Here are some tips to help you choose the right Medical Billing Services provider: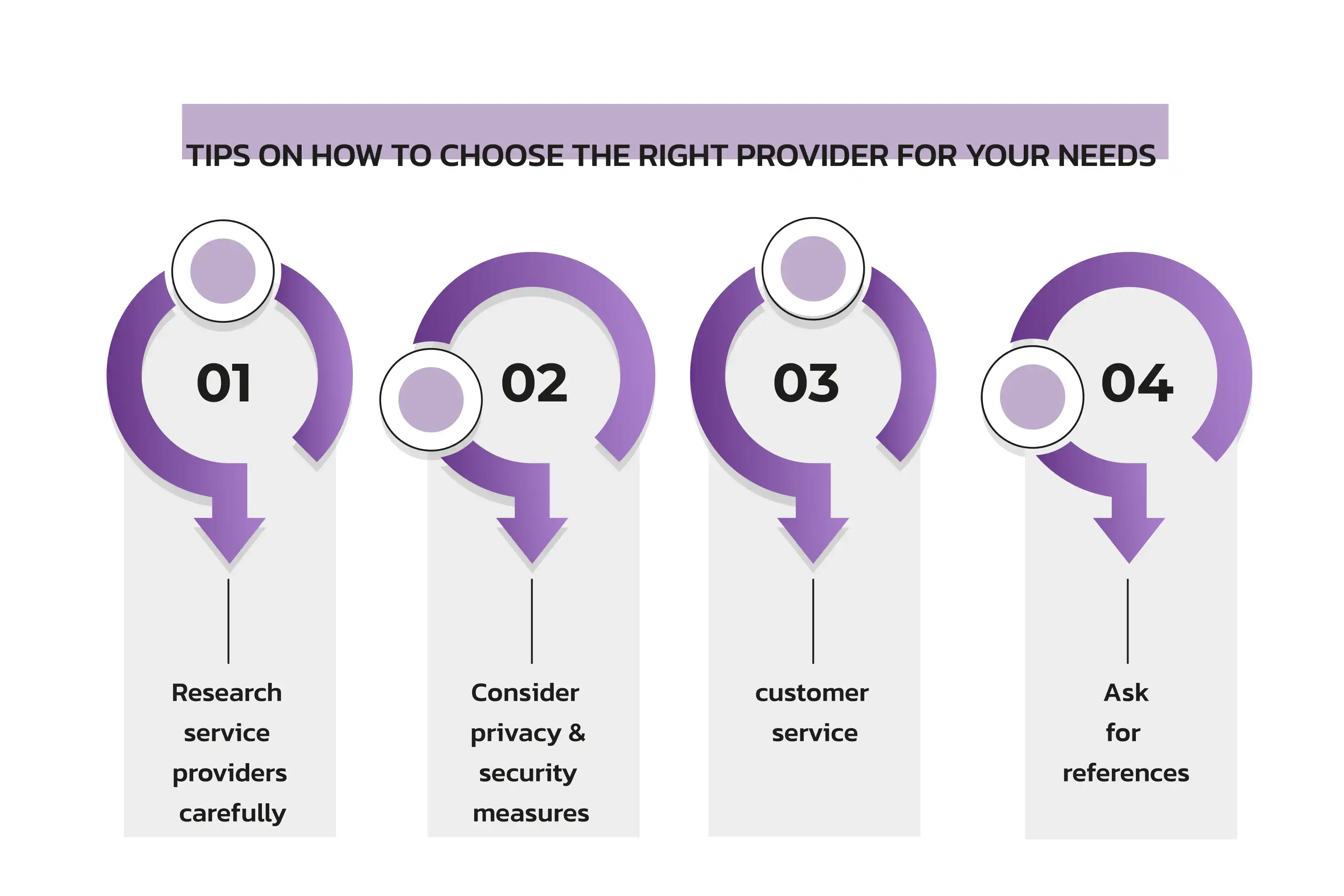 Research service providers carefully—Look for patient statements companies that have a long history of providing quality services and have experience with HIPAA compliance.
Consider privacy and security measures—Ensure that patient data is secure at all times by selecting providers that have strong privacy and security measures in place.
customer service—Choose the providers with excellent customer service and support. This will help ensure that any issues or problems are dealt with quickly and efficiently.
Ask for references—Seek service providers that offer customer references or testimonials. This will help you gauge the quality of their service and determine if they are a good fit for your needs.
By following these tips, you can ensure that you select the right provider for your organization's patient billing and HIPAA-compliant payment processing needs.
Final Thoughts
Patient statement Solutions are an essential part of patient billing and record keeping. Outsourcing these services to a reliable provider like HMS USA LLC can provide you with the peace of mind that your patient information is safe and secure.
With our bulk experience in HIPAA compliance, HMS USA LLC can help you navigate the complex world of patient billing with confidence. So if you want to get started with patient payment solutions you can book an appointment with our specialists by simply dialing (212) 363-0114 or you can mail us out at Info@hcmsus.com.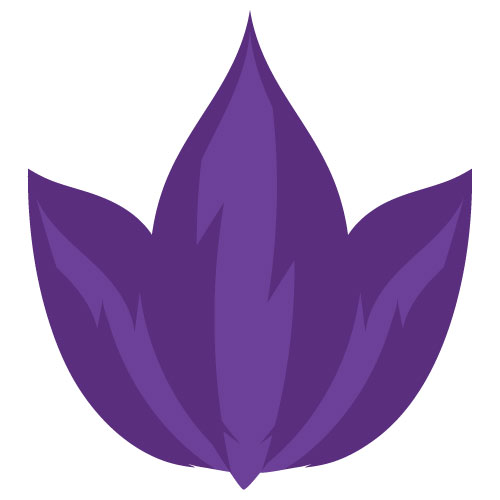 Kanny Omega
As a blog writer with years of experience in the healthcare industry, I have got what it takes to write well researched content that adds value for the audience. I am a curious individual by nature, driven by passion and I translate that into my writings. I aspire to be among the leading content writers in the world.