Medical credentialing is one of the most critical compliance issues in healthcare. It can be complicated and time-consuming, and providers must stay up to date with changes in guidelines and regulations or they could face problems with reimbursement.
Therefore, it is a must for medical providers to overcome the credentialing issues in healthcare by understanding the process so they can keep up with the changing landscape of compliance. Moreover, with a better understanding of credentialing, healthcare providers can work to make the process simpler and much more efficient.
This article will discuss credentialing in healthcare, the issues that providers face with this process, and how they can overcome these problems.
Understanding credentialing in medical billing
Healthcare credentialing verifies that a healthcare provider meets the standards of quality and care set by a third-party organization. This process of credentialing in medical billing includes verifying the provider's educational background, licensing, training, and experience.
The credentialing process is essential because it helps to ensure that patients receive high-quality care from qualified providers. It also helps to protect providers from liability and helps to ensure that they are adequately reimbursed for their services.
Despite the importance of medical credentialing, the process can become very challenging for small and solo practices. Different agencies and organizations are involved in credentialing, which can make it challenging to keep up with the ever-changing landscape.
The credentialing process in healthcare
The credentialing process in healthcare is crucial for ensuring that only qualified providers are allowed to provide care to patients. The process can be lengthy and complicated, but it is necessary to ensure that patients are protected.
One of the main challenges healthcare providers face during credentialing is verifying the qualifications of providers. This can be difficult to do, especially if the provider is not licensed in the hospital's state. In addition, hospitals must verify that providers are actually authorized to practice medicine in the United States. This can be a challenge, as some providers may have obtained their medical licenses in other countries.
Nevertheless, the credentialing process can be challenging but it is necessary to protect patients from potential harm. The process can be divided into four main steps:

Documentation and verification:
This is the first step in the credentialing process, which involves collecting all of the necessary documentation from the provider. This includes medical licenses, professional organizations' credentials, and educational transcripts. This step can be time-consuming, as providers may need to obtain some of these documents from other countries. In addition, some of the papers may need to be translated into English.
Payer submission:
After collecting the necessary documentation, it must be submitted to the relevant payers. This includes insurance companies, Medicare, and Medicaid. The submission process can be complicated, as each payer often has different requirements.
Ensure enrollment:
After the payers have credentialed the provider, they must then enroll in each one. This process can be lengthy, as providers must submit various forms and documentation. In addition, providers must often complete training on how to use the multiple systems.
Updates and re-credentialing:
The credentialing process does not end once the provider has been credentialed, and providers must periodically update their information and re-submit it to the payers. In addition, they must also undergo re-credentialing every few years. The credentialing process in healthcare can be challenging, but protecting patients from potential harm is necessary.
Understanding the steps involved in the credentialing process can help healthcare providers navigate the process more effectively. Moreover, maintaining a physician credentialing checklist can make the process even more streamlined. In addition, outsourcing to reliable medical credentialing services can also help ensure that the process goes smoothly.
Provider Credentialing Issues in Healthcare and their solutions
Healthcare providers such as hospitals, clinics, and individual physicians must overcome credentialing issues in order to be accepted by insurance companies and others who pay for healthcare services. The most common issues are: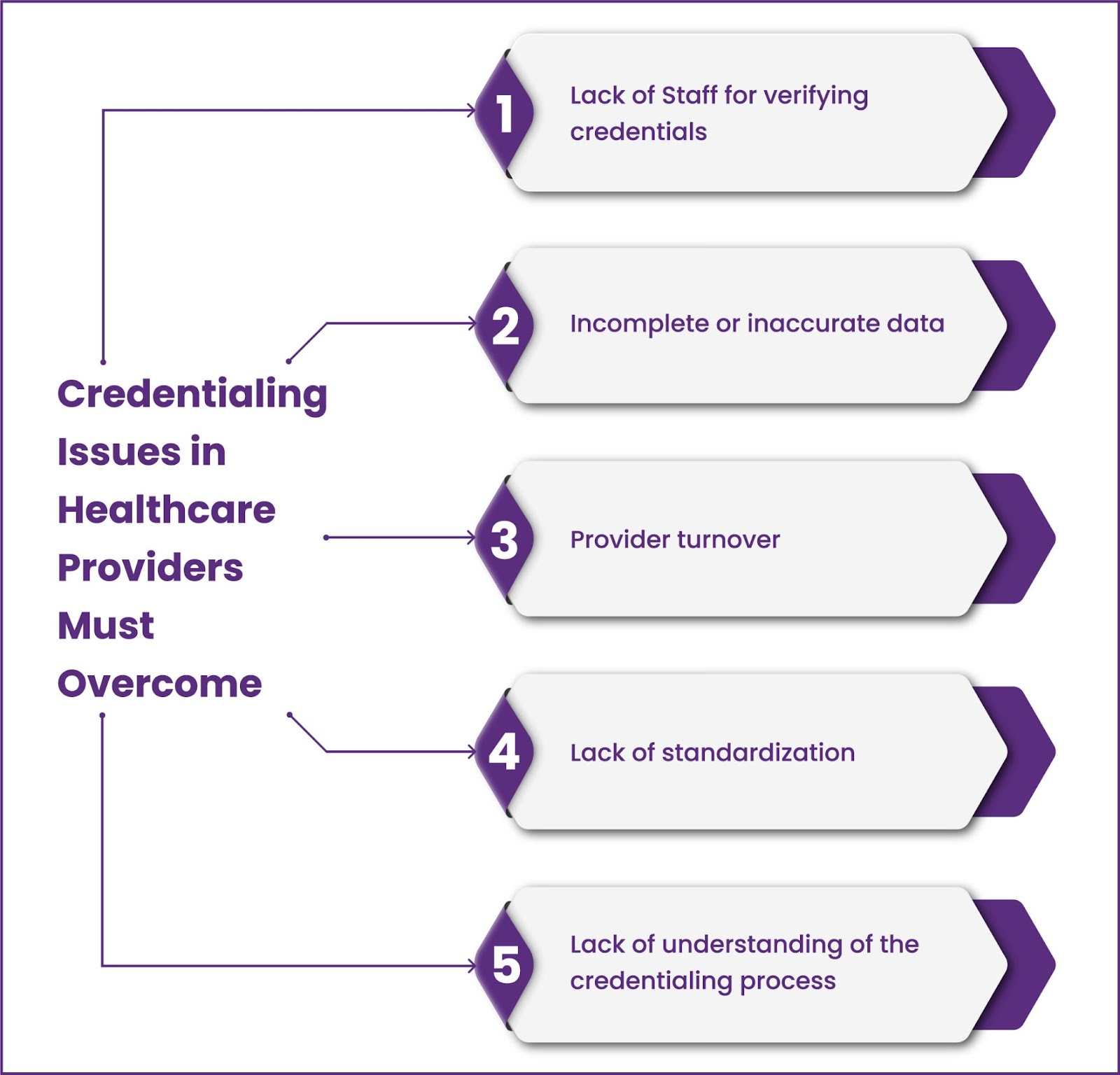 1. Lack of Staff for verifying credentials:
Credentialing providers can be very tedious and time-consuming, and it often requires gathering data from multiple sources, including the provider's training institution, state licensing boards, and professional organizations. Many healthcare organizations do not have enough staff to dedicate to this process.
What would be the solution?
One way to overcome this issue is to outsource the credentialing process to a company specializing in this, and this would free up staff time to focus on other tasks. Another solution is to use technology to automate the credentialing process as much as possible.
2. Incomplete or inaccurate data:
Another common issue is that the data gathered during the credentialing process is often incomplete or inaccurate. This can happen for various reasons, such as human error or outdated information in the provider's file.
What would be the solution?
To overcome this issue, healthcare organizations should have a system in place for regularly verifying and updating provider information. They should also cross-check data from different sources to make sure it is accurate.
3. Lack of standardization:
There is no one standardized way to credential providers. Different organizations have different requirements, and these requirements can change over time. This can make it difficult for healthcare organizations to keep up with the latest standards.
What would be the solution?
One way to overcome this issue is to work with a credentialing company that can help keep track of the latest standards. Another solution is to develop internal guidelines and procedures for credentialing that can be easily updated as standards change.
4. Provider turnover:
Another common issue is provider turnover. When providers leave an organization, their credentials often need to be re-verified, which can be arduous and costly.
What would be the solution?
One way to reduce the impact of provider turnover is to develop a system for tracking provider credentials. This way, when a provider leaves, the organization can easily retrieve and update its information. Another solution is to have a policy that requires providers to keep their credentials up-to-date.
5. Lack of understanding of the credentialing process:
Many healthcare providers are unfamiliar with the credentialing process and do not understand what is required of them. This can lead to delays in the process or even errors in the submitted information.
What would be the solution?
One way to overcome this issue is to provide training to providers on the credentialing process. This can help them understand what is required and how to submit their information properly. Another solution is to have a dedicated staff member who can help guide providers through the process.
The above issues must be overcome for the effective working of healthcare providers. Training the staff and investing in technology are some ways that can help in gathering accurate data and reducing time. Consulting a healthcare specialist can be fruitful in getting ideas about how to manage different practices and their credentialing process.
In conclusion, credentialing issues in healthcare can be overcome by taking a few simple steps. Healthcare organizations can save time and money by outsourcing the credentialing process, using technology to automate the process, and regularly verifying and updating provider information. Therefore, we believe in one of the leading medical billing companies in NY makes HMS USA LLC Medical Billing Company in NY the best choice for you.
We offer a full-service solution that helps healthcare organizations with every step of the credentialing process. We have a team of expert medical billing specialists who can help you ensure that your providers are appropriately credentialed and that your organization is in compliance with all the latest standards.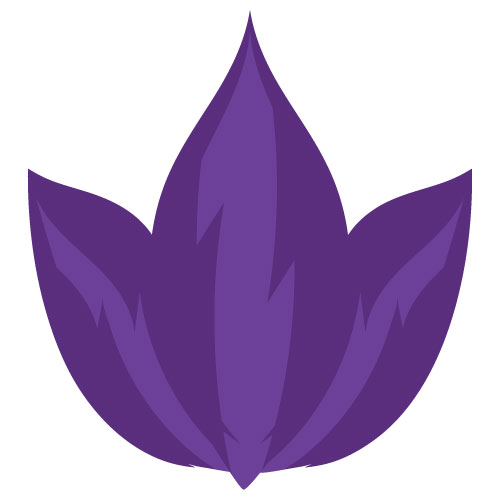 Clark Jorden
As a blog writer with years of experience in the healthcare industry, I have got what it takes to write well researched content that adds value for the audience. I am a curious individual by nature, driven by passion and I translate that into my writings. I aspire to be among the leading content writers in the world.