As a healthcare provider, chest pain in your patients is common. However, the ICD-10 codes for chest pain can be confusing, leaving you scratching your head and struggling to code the diagnosis accurately. With so many codes to choose from, how do you know which one to use?
In this blog post, we'll look closer at chest pain ICD-10 codes and provide the information you need to navigate them easily.
Whether you're new to coding or an experienced healthcare provider, this guide will help you confidently assign the right ICD-10 code for chest pain, ensuring your patients receive the appropriate treatment and care they need.
Table of Contents
Billable ICD-10 Code for Chest Pain
ICD-9 Code Transition for Chest Pain
General Guidelines for Chest Pain ICD10 Code
List of ICD 10 Codes for Chest Pain
Chest pain is a common symptom that various medical conditions can cause. It is characterized by discomfort, tightness, pressure, or aching sensation in the chest region. It can range from mild to severe and sudden or gradual. It is often associated with heart-related problems, such as angina or a heart attack, but respiratory, digestive, and musculoskeletal conditions can also cause it.
The Billable ICD 10 code for chest pain, Unspecified, is R07.9. According to current findings, this code has been deemed valid for billing purposes from October 01, 2022, to September 30, 2023. It's worth noting that no changes have been made to the effectiveness of this code since it was first implemented in 2015.
As a healthcare professional, utilizing the correct ICD 10 codes to ensure proper billing and documentation of medical services provided is important. The R07.9 code should be used when documenting cases of unspecified chest pain, which may require further evaluation and diagnosis to determine the underlying cause.
The transition from ICD-9 to ICD-10 codes brought about significant changes in the way healthcare providers document and bill for medical services, including chest pain. In ICD-9, chest pain was classified under category 786, which included several different types of symptoms related to respiratory and chest issues.
When documenting cases of chest pain, healthcare providers should follow general guidelines for ICD-10 coding to ensure accuracy and appropriate reimbursement for medical services. Here are some key guidelines to keep in mind:
Identify the underlying cause
Various medical conditions, such as angina, heart attack, pulmonary embolism, or gastrointestinal issues can cause chest pain. It's important to identify the underlying cause of the pain and document it in the medical record to ensure accurate coding and appropriate treatment.
ICD-10 codes are more specific than previous coding systems, so it's important to use the most specific code to describe the patient's condition accurately. For example, instead of using the general code R07.9 for unspecified chest pain, use a more specific code such as I20.9 for angina or I21.4 for acute myocardial infarction. If you feel confused about accurately coding for these cardiology billing services, you can seek assistance from a professional provider
Document-associated symptoms
In addition to the chest pain, it's important to document any associated symptoms, such as shortness of breath, sweating, or nausea, as these can provide additional information for coding and diagnosis.
Medical coding systems are updated periodically, so healthcare providers should stay updated with the latest coding changes and updates to ensure accurate coding and billing.
It should be kept in mind that codes for chest pain may differ based on the underlying cause, so specific ICD 10 codes should be used instead of the general code:
The R07 category in ICD-10 includes codes for Symptoms and signs involving the circulatory and respiratory systems. Here are the codes and descriptions in this category: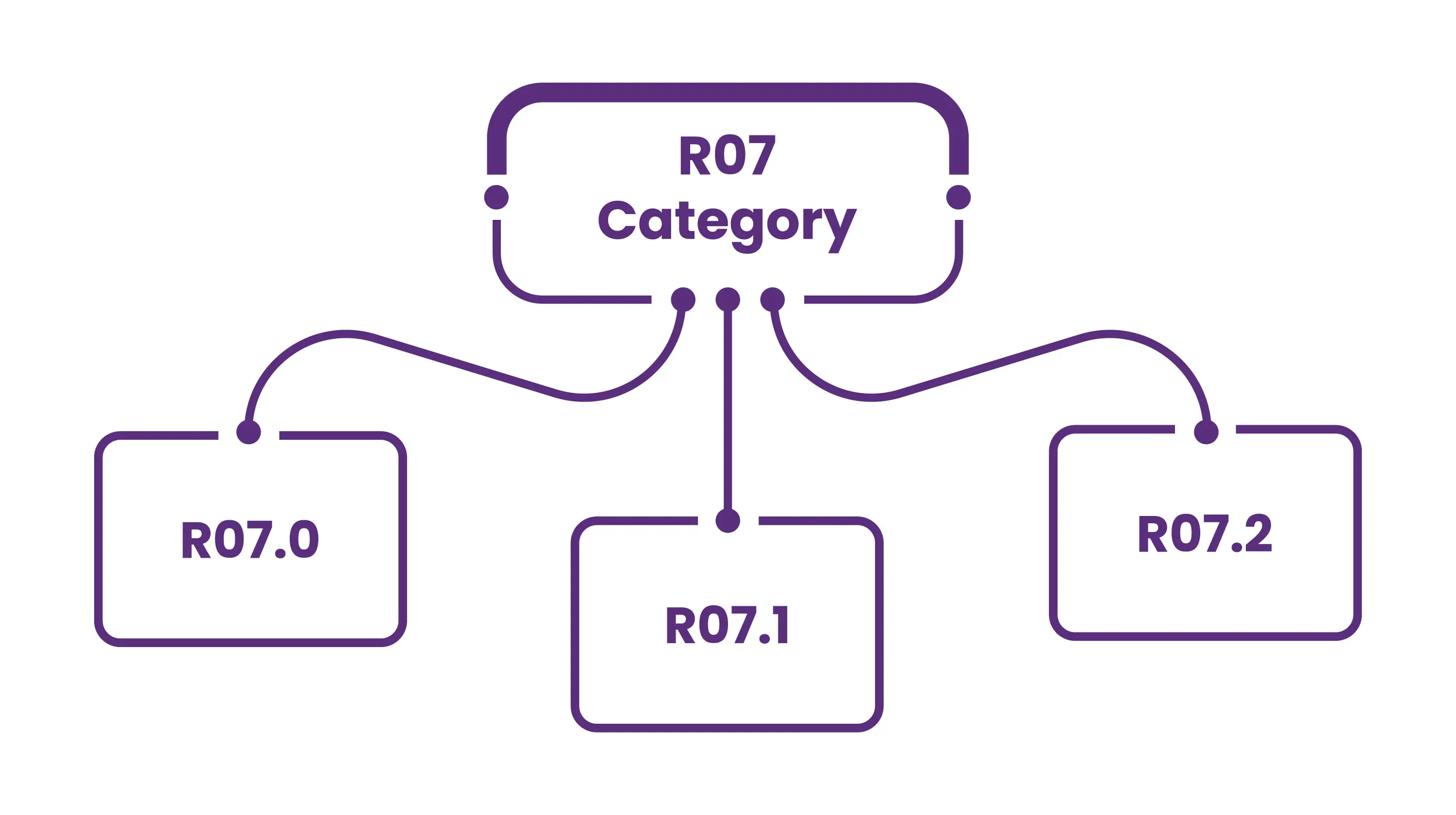 R07.0 - Pain in throat and chest: This code is used to document cases of pain in both the throat and chest, which may be caused by various medical conditions such as respiratory infections or inflammation.
R07.1 - Chest pain on breathing: This code documents cases of chest pain that worsens with breathing, possibly caused by conditions such as pleurisy or rib fractures.
R07.2 - Precordial pain: This code is used to document cases of pain located in the area of the heart, also known as precordial pain. This may be caused by conditions such as angina or pericarditis.
The R07.8 category in ICD-10 includes codes for other specified chest pain. Here are the codes and their descriptions in this category: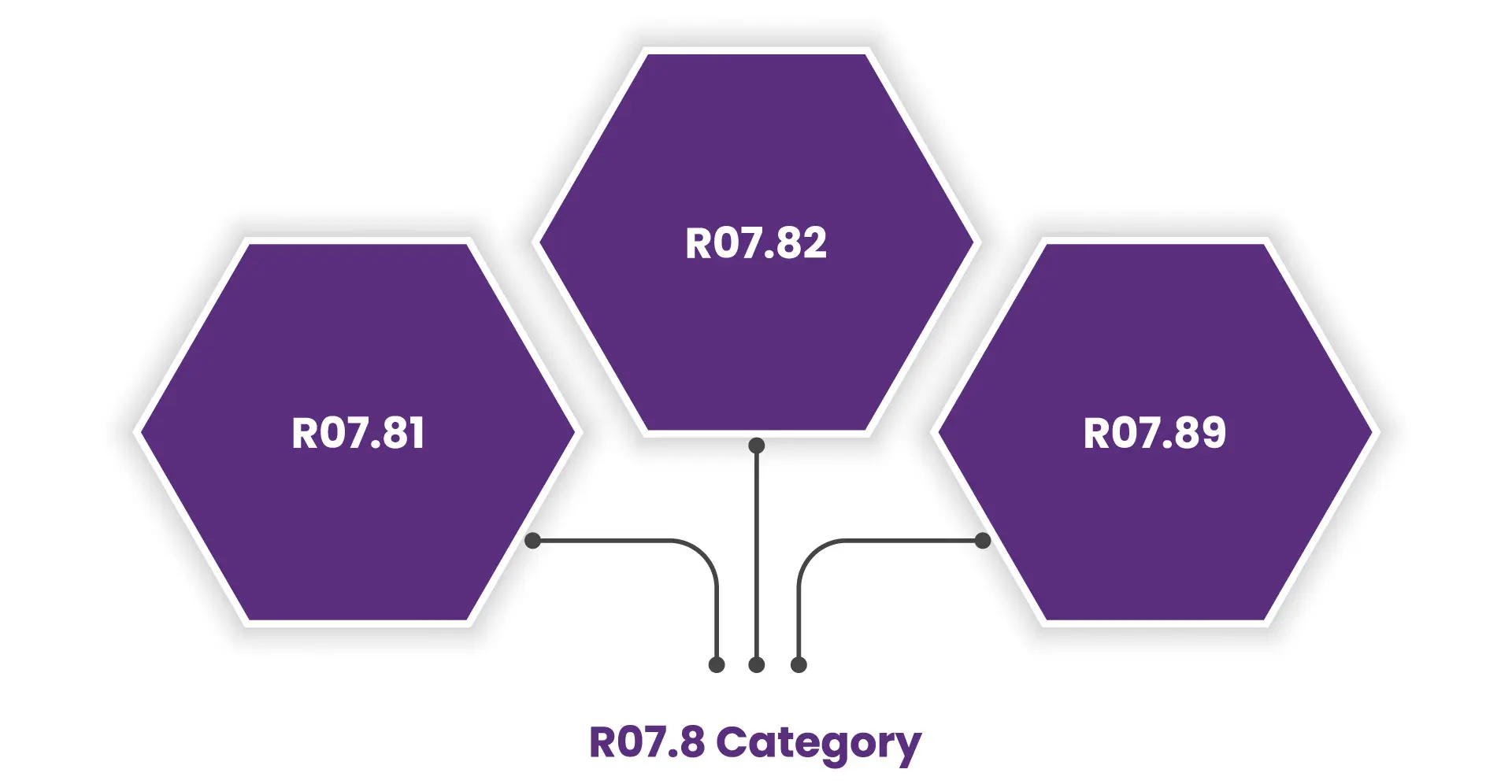 R07.81 - Pleurodynia: This code documents cases of pleurodynia, also known as Bornholm disease or epidemic myalgia. It is a viral infection that causes sudden onset of chest pain, fever, and muscle aches.
R07.82 - Intercostal pain: This code documents cases of intercostal pain, which is pain between the ribs. This type of pain may be caused by trauma, inflammation, or nerve damage.
R07.89 - Other specified chest pain: This code documents cases of chest pain that cannot be classified under any other specific code in the R07 category. This may include chest pain related to musculoskeletal or psychological conditions and other rare causes of chest pain.
By utilizing the correct ICD-10 codes, healthcare providers can ensure accurate documentation and billing for medical services related to chest pain. It is important to carefully evaluate each patient's symptoms and medical history to determine the appropriate code for accurate diagnosis and treatment.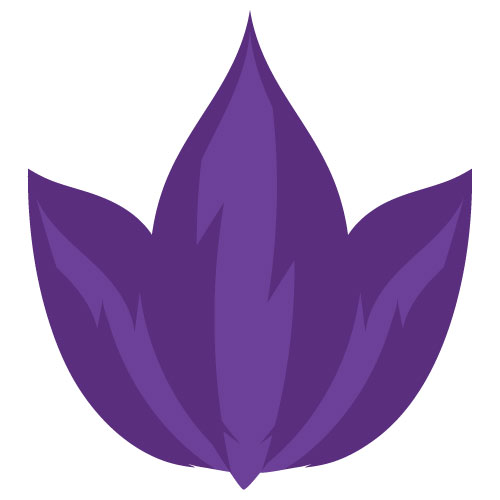 Steve Harrison
As a blog writer with years of experience in the healthcare industry, I have got what it takes to write well researched content that adds value for the audience. I am a curious individual by nature, driven by passion and I translate that into my writings. I aspire to be among the leading content writers in the world.